Deadbolt locks; Different types explained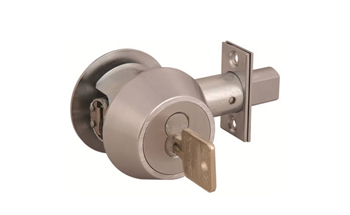 With crime rates going up, living in a home is no longer as safe as it used to be. There are an increasing number of thieves and burglars around, even in what may seem to be a pretty safe neighbourhood to live in.
Taking that into consideration, it does not take rocket science to see why plenty of home-owners decide to equip their home with an alarm system, for an example. However, an alarm system alone is not enough to prevent thieves or burglars from gaining entry and raiding the contents of a house.
Therefore, home-owners should start thinking about securing their home with a reliable (high security)lock, especially for the front door of a house.
This article will explain the differences in locks so that you can learn how to find the
best front door locks
for home security.
Advice from your Locksmith
Now, if you choose to go to a locksmith to ask for some advice on this issue, the locksmith will most likely tell you that you can't be wrong for choosing deadbolts. This is true with the exception of mass produced deadbolts that are prone to lock bumping. The advantage that a deadbolt, or a deadlock, has is that it is more secure when compared to a standard spring locking system. However, the problem is, there are quite a few types of deadbolts available on the market. So, which one will suit your needs best?
The answer to this question will be determined by the type of doors you want to secure. Briefly speaking, here are the types of deadbolts available::
Single cylinder deadbolt
Double cylinder deadbolt
Grade 1 deadbolt
Beveled deadbolt
Single Cylinder Deadbolt/Deadlock
Now, this may prove to be the most affordable yet still reliable option when it comes to a deadlock. However, you can't simply decide to use this type of deadlocks in particular without paying attention to the type of door you have at your home. If you insist on using the single cylinder deadlock only because its price tag is the friendliest to your pocket among all available options, you will probably always worry about burglars breaking into your home. After all, a lock that is not suitable for a door will make it fairly easy for burglars or thieves to commit their crime.
So, when should you use the single cylinder deadbolt lock?
This kind of locking system is ideal to use when all you want to secure is a solid door made of metal or wood and that there is no window whatsoever on the door.
Double Cylinder Deadbolt
Now, what if there is a window of some sorts or your front door has some glass panes on it?
In this case a double cylinder deadbolt is an ideal solution. This particular type of deadlock also goes by the name
captured key deadbolt
. Thanks to its double locking mechanism, it is not going to be easy for a burglar to break into your home. The reason: a key must be used both from the inside and outside of the lock to disarm or unlock it.
With the double cylinder deadlock, it is no longer possible for burglars to use their thumb latch to open the door from the inside once they have successfully broken the outer part of the lock.
Grade 1 Deadbolt
Some deadlocks come with a quality grade value on them. These grading values are determined by the American National Standards Institute, or ANSI for short. The values, however, are the brainchild of The Builders Hardware Manufacturers Association (BHMA). The grades are used to determine how secure and durable a lock is. If you want a deadlock for a reasonable price that will put your mind at ease, choosing a deadlock with the "Grade 1" emblem on it is the exact thing to do.
Beveled Deadbolt
Beveled deadbolt will give burglars real troubles if they try breaking into your home with a hammer or other heavy duty tool. This kind of deadlock comes with a hardened steel case, making it all the more difficult for burglars to cut or saw your lock.
For an added security, you can equip your deadlock with extra security plates. These security plates are usually attached not only to your door jamb but also to your house walls. As such, there is virtually no way at all for criminals to break into your fortress.
If you are looking to
secure your home
, we advise you to contact your local locksmith in your area: They are trained and certified to give you the best advise on home security